Developmental Beta Reading

$3 per 1,000 words
15% discount if you book four months in advance

How I work:

Developmental Beta is my best service. I give as much feedback as I can on the book as a whole. You get a little developmental editing, a few line edits, feedback on the plot and characters, and a 2-4 page editorial letter.


I'm big on actionable critique: I don't tell you that something is bad. I figure out why it isn't working and show you where to fix it.

Often when a scene doesn't work it's because the pacing doesn't match the tone, or narrative focus is in the wrong place, no motivation, stilted dialog, a million little variables. We don't scrap the chapter. We make it work.

That's my strength, but the formula changes depending on the book. (Oh and I have a four year degree in poetry, so my line-edits can be a little intense.) I get really into my authors' books. I follow their releases and cheer them on. Need help with covers and publishing? I might be able to point you in the right direction.

Drop me a line if you have any questions.

Additional services

Line Edits: I pick the trouble spots and help with the rewrite. I make sure the voice of the narrator and characters are consistent. I fix passive voice and awkward dialog. In most cases one pass is enough. Works best when paired with a Beta Read.

Developmental Edit: We talk author-to-author. Does the world make sense? Does the plot work? Is the narrator consistent? Are the characters' decisions justified? Should chapters be moved? Dev edits are the difference between a good book and a great book.

(Fees vary based on what draft your book is in. If you're interested, send me your manuscript and I'll have a quote ready for you.)

Powered by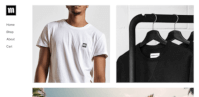 Create your own unique website with customizable templates.